WEEI commenced broadcasting on September 29, 1924.
The station was originally owned by the Edison Electric Illumiating Company and, according to the QSL card, operated on a frequency of 306 metres (980 kHz) with a power of 500 watts at the time of the reception (most likely during January 1925) at Rockland, Maine.
The Edison Electric Illuminating Company building, situated at 25-39 Boylston Street, Boston, Massachusetts. Constructed in 1906 and enlarged in 1922, the seven story building served as the headquarters of the Boston Edison Illuminating Company until the 1950s (photograph Wikimedia Commons).
Identifying the mystery building on the QSL Card
I was intrigued with the image of the building and antenna towers depicted on the QSL card as the drawing did not seem to resemble the photograph of the Edison building.
During an internet search of historical buildings in Boston, I stumbled across the COB Landmarks & Archaeology flickr photostream which includes a Creative Commons photograph of a building (on the right in the image below) with similar characteristics as the structure depicted on the QSL.
Superimposing both images :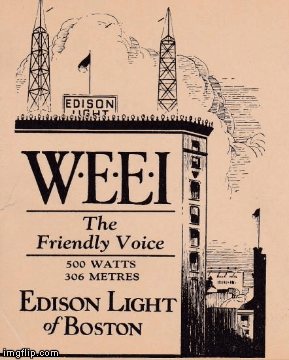 The 9 floor structure (including 2 floors below ground level) is the Grand Lodge of Masons building situated on the corner of Tremont and Boylston street.
The Google Street View from Boylston Street confirms that the Grand Lodge Building is virtually adjacent and on the left hand side of the Edison Illuminating Electric Building (with an alleyway and a parking garage in between).
The WEEI antenna towers were located on top of the Edison building behind the Grand Lodge of Masons building depicted on the QSL card.

Photograph of the WEEI antenna towers (1925).